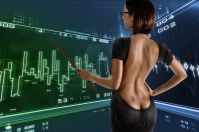 Events today:
15.30 Moscow time. US: Number of initial jobless claims.

Euro to dollar EURUSD forecast today 05/14/2020

The European currency this week twice made an attempt to gain a foothold at the resistance level of 1.0880, but both times were unsuccessful. Will there be a third attempt today to break through this level? There is a possibility that yes. Will this attempt succeed? One cannot say for sure, but there are chances. Firstly, the head of the US Federal Reserve, D. Powell, who spoke on the eve, said that low rates in the United States and asset buybacks will continue for as long as necessary for steady economic growth. Powell did not give an exact time reference, but hinted that the restoration of economic growth after COVID-19 would be long and Congress should hurry up with the adoption of a new package of stimulating measures. Thus, the Fed will continue to increase the money supply, which will negatively affect the value of the dollar. Secondly, on the eve of the United States at the repo auction received applications to the Fed in the amount of $ 1 billion, which is the minimum level this month. For example, on Monday and Tuesday applications were in the amount of 33.75 and 41.2 billion dollars, respectively. American banks had problems with dollars in the first half of the week, now the issue is resolved. For the dollar, this is an additional negative.

EURUSD recommendation: Buy 1.0799 / 1.0775 and take profit 1.0890

Forex forecast GBPUSD today 05/14/2020

Current levels are attractive for GBPUSD purchases. The first reason for the growth of the GBPUSD pair is the positive dynamics of the debt market, where there is an increase in the yield spread of 10-year UK and US government bonds. Investors are now pessimistic about American bonds, as deflation was recorded in April by the producer price index. Production prices fell for the first time since August 2016. Deflation in the manufacturing sector will reduce inflation in general in the US economy. Deflation is always bad for developed economies. The second reason for growth is the Fed's desire to continue to buy assets on its balance sheet until the economy shows strong growth. When can this happen? The most optimistic scenario is the end of the year.

GBPUSD recommendation: Buy 1.2190 / 1.2170 and take profit 1.2260
The forecast of the dollar against the yen USDJPY today 05/14/2020

Today, a negative background is forming for the USDJPY pair for this currency pair. In the commodity market, we see a strengthening of gold, which traditionally provides good support to the Japanese yen. Investors are buying gold, as the central banks of the G-20 countries are actively increasing the money supply in their countries. An increase in the money supply leads to a smooth depreciation of the currency. Paper dollars, euros, pounds lose their attractiveness as a savings tool. Why do people need money? Money is a means of exchange, payment and savings. The first two functions are always stored, and the last function is periodically distorted, and it is precisely the Central Banks that distort it. Since gold cannot be printed and painted, this precious metal is an ideal means of saving. It is likely that in the coming days, gold will storm an eight-year high,

USDJPY recommendation: Sell 107.15 / 107.30 and take profit 106.60
FreshForex analytics