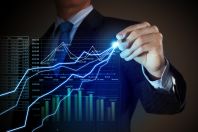 Events today:
15.30 Moscow time. United States: April CPI.

Euro dollar forex forecast EURUSD for today 05/12/2020

Today in the United States will be released data on inflation for April. Some investors believe that strong consumer price growth is possible, since the Federal Reserve printed a large amount of money, and this, according to the laws of economic theory, leads to a strong increase in inflation. But there is one nuance called the money multiplier. It is not enough just to take and print a lot of money - it is necessary that this money be circulated in the economy, so that banks create loans for which goods and services are bought. And this is just the problem: the money multiplier is now at a minimum since March 2018! And if so, then there will be no inflation in the United States, or rather it will be, but small. How will this event affect the quotes of the EURUSD pair? For the euro, this is a small positive.

EURUSD recommendation: Buy 1.0800 / 1.0780 and take profit 1.0850

Pound Dollar GBPUSD forecast for today 05/12/2020
According to the Ministry of Energy of Saudi Arabia, in June, the country will voluntarily reduce oil production by another 1 million barrels per day. As the agency explained, by this step it intends to inspire other OPEC + participants to support the initiative to cut production and to comply with its obligations. This is unexpected news for the oil market. But if you consider the situation more carefully, then everything falls into place. In Saudi Arabia, the budget deficit is now increasing, the country is forced to raise taxes. To increase the flow of currency into the economy, it needs to take measures to stabilize the oil market. For the pound, this is a positive signal, since the British currency correlates with black gold.

GBPUSD recommendation: Buy 1.2300 / 1.2270 and take profit 1.2350
USDJPY forecast today 05/12/2020

Bullish rally in the US stock market can provide good support to this currency pair, as historically USDJPY correlates with the American stock market. The U.S. Treasury Department has posted a bond placement schedule on its website The largest volume falls on May 15, June 1, June 15 and June 30. A high volume of bond placement almost always, with very few exceptions, leads to a correction in the stock market, since liquidity moves from one market to another. Against this background, I expect that investors will push the stock market up to the psychological level of 3,000 points on the index # SP500 by Friday May 15, after which we will see a correction.

USDJPY recommendation: Buy 107.15 / 107.00 and take profit 107.50
FreshForex analytics