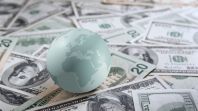 Events today:
15.30 Moscow time USA: March change in volume of orders for durable goods.

EURUSD Forex pair forecast today 04/24/2020

The positive situation in the interbank lending market indicates the development of an uptrend in the EURUSD pair. In London, there is a trend towards lower interest rates on loans in dollars and an increase in interest rates on loans in euros. In New York, for the last three days at the REPO auctions, the Federal Reserve received applications from commercial banks in the amount of $ 0.8 billion, which is the minimum level for the last 4 weeks. This trend indicates the absence of problems with dollar liquidity in the banking system, which will contribute to lower quotes of the American currency. The rally in gold will provide additional support for the euro, as the European currency and precious metal correlate with each other.

EURUSD recommendation: Buy 1.0755 / 1.0730 and take profit 1.0820

GBPUSD forecast today 04/24/2020

Increased demand for risky assets will positively affect the value of the British currency. Investors are now actively buying up energy, precious and industrial metals, stocks around the world. During such periods, the British pound "feels like a fish in water". This afternoon, macroeconomic statistics on durable goods orders will be published in the United States. Of course, the statistics will turn out bad, maybe even terrible, but now investors pay little attention to this, since everyone is waiting for the removal of quarantines due to the COVID-19 epidemic. When quarantines are canceled, statistics will be good. The market always lives with future expectations, and not current statistics.

GBPUSD recommendation: Buy 1.2306 / 1.2275 and take profit 1.2359
USDJPY forecast dollar yen rate today 04/24/2020

Today, Forex players in the USDJPY pair have two reasons to sell the pair. First, the debt market shows a decrease in the yield spread of 10-year US / Japanese government bonds, which is a signal of a decrease in quotations. Second, the USDJPY pair has historically strongly correlated with gold prices, while the precious metal is showing a good uptrend this week. Gold is trading near an eight-year high and updating this extreme is just a matter of time.

USDJPY recommendation: Sell 107.85 / 108.15 and take profit 107.25
FreshForex analytics
Do not miss: We make money at home as a trading adviser