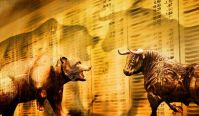 Events to watch out for today:
10.30 Moscow time. Germany: Manufacturing PMI for April.
11.30 Moscow time. United Kingdom: Manufacturing PMI for April.
17.00 Moscow time. USA: March home sales in the primary market.

EUR / USD forecast EURUSD today 04/23/2020

In the midst of the European session, a German PMI release will be published. Let me remind you that this week an optimistic report by the German ZEW institute was released, where an increase in investment confidence was recorded. From Monday April 20, Germany began to gradually abolish quarantine caused by the COVID-19 coronovirus, which in turn is positively perceived by investors and businessmen. For the European currency, this is a good reason to demonstrate the growth of quotations. Additional support for the euro will have a rally in the gold market, where the precious metal has fixed above the psychological level of $ 1,700 / ounce and is ready to storm an 8-year high.

EURUSD recommendation: Buy 1.0820 / 1.0795 and take profit 1.0900

Pound dollar forex forecast GBPUSD today 04/23/2020

GBPUSD bidding will be determined by two factors. On the one hand, we can expect a decline in quotations of the British currency against the background of negative statistics on the index of business activity in industry. The UK is in quarantine due to the coronavirus epidemic and the British government has not yet made a statement about the possibility of a gradual lifting of restrictions. On the other hand, in the interbank lending market in London, there has been a steady decline in dollar loan rates. In the United States, commercial banks do not apply for loans to the Fed for two consecutive days at repo auctions. This situation indicates the absence of a deficit of dollar liquidity in the banking system and will have a negative impact on the exchange rate of the American currency.

GBPUSD recommendation: flat 1.2350 -1.2425
Dollar yen USDJPY forecast today 04/23/2020

The situation in this currency pair is quite controversial. On the one hand, we can expect a drop in quotations against the background of a bull rally in the precious metals market, since USDJPY and gold have historically been inversely correlated. On the other hand, investors are returning to stock exchanges and buying up equity securities, which in turn can support this USDJPY currency pair, since it correlates with the S & P500 index. Which factor will ultimately outweigh and have a decisive influence on the course of trading? It's hard to say now - the probability is 50/50.

USDJPY recommendation: flat 107.43 -108.15
FreshForex analytics