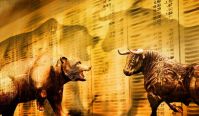 Events to watch out for today:
15.30 Moscow time USA: March retail sales change.

Forex forecast for EURUSD today 04/15/2020

The fall of the USDX dollar basket index continues. Based on the scale of the Federal Reserve's incentives and recalling the events of 2009-2013, when the Central Bank actively bought out assets, we can conclude that the dollar can still fall by at least 10% in the medium term, which implies a strong growth of the euro. But this is on the horizon for several months. On the horizon of two weeks, USDX may fall by 2%, which implies the growth of the euro to 1.1200. By its actions, the Fed helps to reduce the dollar and this trend is very strong. Trading against the trend is now dangerous!

EURUSD recommendation: Buy 1.0950 / 1.0930 and take profit 1.1000

Forex forecast GBPUSD today 04/15/2020

The positive dynamics of the debt market indicates the continuation of the uptrend in the British currency. The yield on 10-year UK government bonds is growing relative to its counterparts from the United States and Germany, which traditionally has a positive effect on the value of the pound. In the afternoon, a report on US retail sales for March will be published, where we can expect weak data amid the coronavirus epidemic COVID-19, which will have a negative impact on the US dollar in the short term.

GBPUSD recommendation: Buy 1.2570 / 1.2550 and take profit 1.2630
USDJPY rate forecast today 04/15/2020

The course of trading is strongly influenced by the dynamics of gold and the American stock market. On the one hand, when we see a rally in the gold market, then for this currency pair it is a negative signal, since the precious metal and the Japanese currency are highly correlated. What we are seeing this week. On the other hand, there is a bull rally in the US stock market. This is a positive signal for the USDJPY pair, as it very often shows growth during periods of rising stock markets. What do we have in the dry residue? Everything was mixed up and now it's hard to understand which of the factors will be decisive.

USDJPY recommendation: flat 106.80 -107.40
LiteForex analytics