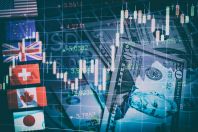 The forecast of the euro against the dollar pair EURUSD today 04/13/2020

European banks are not working again today, as Europeans celebrate Easter. Tomorrow the market will return to its normal state and I expect a continuation of the uptrend in the single European currency, since the trend to lower interest rates on dollar loans remains on the interbank lending market in London. Today, traders should expect a calm trade, as low liquidity forces investors to take a wait and see attitude.

EURUSD recommendation: flat 1.0910 -1.0988

GBPUSD forecast for today 13/04/2020

A March report on inflation in the United States recorded a decrease in the consumer price index to 1.5%, which is the lowest level for the past thirteen months. Lower inflation allows the Federal Reserve to keep low interest rates and increase lending to the US economy. The Fed's balance sheet now stands at $ 6.08 trillion. Over the past month alone, the Fed's balance has increased by $ 1.77 trillion. Such a high growth rate of the balance sheet in the past has always led to a depreciation of the dollar. Traders should wait for the continuation of the uptrend in the GBPUSD pair.

GBPUSD recommendation: Buy 1.2460 / 1.2435 and take profit 1.2544
Forex forecast for the dollar in the pair USDJPY today 04/13/2020

Today, a positive background is forming for the Japanese yen. Firstly, high prices for precious metals will have a positive impact on the value of the yen, as the Japanese currency correlates with gold. I note that this correlation is strong enough and has been observed for many years. Secondly, today, market participants should wait for a correction in the US stock market, which has been booming for the past three weeks. Very often, after a long trend on Monday, a technical correction occurs, and today it is possible to develop just such a scenario. During periods of correction in the stock markets, the Japanese yen receives good support.

USDJPY recommendation: Sell 108.20 / 108.50 and take profit 107.52.
FreshForex analytics and forecast