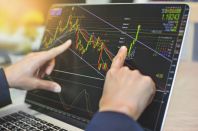 EURUSD rate forecast euro to dollar today 01/15/2021

The head of the FRS announced yesterday that the time for raising interest rates in the United States will not come "soon." The regulator will inform in advance about the curtailment of the purchase of assets, dispelling assumptions about the imminent start of the reduction of incentives. According to Powell, the economy is far from the goals of the Fed, so he sees no reason to change the ultra-soft policy, "until the job is fully and certainly done." This is a negative signal for the US dollar, as rising inflation in the United States makes the dollar less attractive to investors. The effective federal funds rate in the United States is now 0.08%, which, given an inflation rate of 1.4%, makes investment in the American money market meaningless.
EURUSD investment idea: Buy 1.2140 / 1.2120 and take profit 1.2210

GBPUSD Forex forecast for today 01/15/2021

Today forex traders in the GBPUSD pair have two reasons to open long Buy positions. The first reason is the rise in negative real interest rates in the US, which is forcing investors to get rid of the greenback. D. Powell said yesterday that the Fed will continue to buy assets this year, despite rising inflation, as it takes a long time for economic growth to recover from the Covid-19 pandemic. Thus, negative real interest rates in the United States will persist for a long period of time. The second reason, the possible continuation of the upward trend in the oil market, will support the sterling rate, since the pound is historically correlated with oil. OPEC published a fresh review for December, which noted the growth in oil demand in the fourth quarter, and also improved its forecast for consumption of black gold for 2021.

GBPUSD investment idea: Buy 1.2140 / 1.2120 and take profit 1.2210
Forex forecast for the dollar yen pair USDJPY for today 01/15/2021

US President-elect Joe Biden said about 18 million Americans are now living on unemployment benefits, and about 400,000 small businesses have gone broke. To improve the economic situation, Biden proposes to Congress, where his Democratic associates have a majority, to approve a new anti-crisis program in the amount of $ 1.9 trillion. This program may be approved as early as next month, which will further increase the money supply in the United States. The Fed has published fresh statistics on changes in the M2 monetary aggregate, which increased by $ 108 billion over the past week, with a growth rate of 25% y / y. New incentives from Biden's team will help maintain the high growth rate of the money supply. Of the world's largest economies, the United States has the highest M2 growth rate.

USDJPY investment idea: Sell 104.00 / 104.20 and take profit 103.55

FreshForex analytics