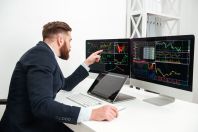 USD / CAD is rising moderately during the trading session on Thursday. Since the opening of the day, the US dollar has added 0.17% against its Canadian counterpart and is quoted at 1.2803.
The US dollar was supported by strong macroeconomic data on business activity in the ISM services sector, as well as private sector employment from ADP, released on Wednesday, which returned hopes for a faster recovery in the US economy. The ISM Institute of Supply Management (ISM) purchasing managers' index (PMI) for the service sector rose to 58.7 in January from 57.7 in December. Economists polled by the Wall Street Journal had expected the index to reach 57. At the same time, the ADP report said it added 174,000 new jobs in January after declining 78,000 in the previous month. Analysts predicted the emergence of positive dynamics, but counted on only 49 thousand.
Strong private sector data suggests that Friday's US labor market report will also exceed traders' expectations, which is not the case for the Canadian labor market report, which will be released at the same time as the US one. Analysts predict an increase in the unemployment rate in Canada to 8.9%, as well as a decrease in the number of employed by almost 50 thousand. ... In this scenario, the pressure on the CAD will increase significantly.

Investors are also watching talks by US lawmakers on a new round of US fiscal stimulus. Joe Biden's administration is calling for a $ 1.9 trillion package of measures, but a Republican counter-proposal launched this week would more than halve those spending. In the coming days, Democrats are expected to attempt to give their program the force of law, bypassing Republicans. Until this happens, the growth of the dollar may continue.
USD/CAD BuyLimit 1.2760 TP 1.29 SL 1.2710
Analytical reviews and comments to them reflect the subjective opinion of the authors and are not a recommendation for trading. Author Artem Deev is a trader analyst at AMarkets . The social network of forex traders is not responsible for possible losses in case of using the review materials

The content of this article is the solely private opinion of the author and may not coincide with the official position of the Forex social network Special . The materials published on this page are provided for informational purposes only and should not be construed as investment advice or advice for the purposes of Directive 2004/39 / EC