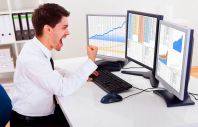 USDCAD is declining for the third week in a row. During the trading session on Wednesday, the US currency is consolidating against the Canadian dollar near the level of 1.3350. Market participants are selling the dollar ahead of the announcement of the results of the two-day meeting of the US Federal Reserve. In addition, among the factors that put pressure on the US currency, one can single out the negative consequences of the second wave of coronavirus, as well as the lack of progress on new measures to stimulate the US economy. The previous support package is due to expire on August 1, and the new one has not yet been approved by Congress. The main disagreements remain around the size of the package: Republicans are trying to cut budget spending and insist on the amount of $ 1 trillion, while Democrats are counting on $ 3 trillion.
Meanwhile, Canada's current economic support measures continue to operate. On the eve of the Minister of Economic Development Melanie Jolie announced that only enterprises in Western Canada received loans in the amount of 95 million Canadian dollars to combat the consequences of the coronavirus. Traders believe that the recession in which the Canadian economy finds itself this year will have significant consequences for monetary policy in 2021 and 2022, as the Bank of Canada pegs the overnight rate to close the gap in output from potential. In other words, the Canadian regulator cannot yet afford to completely abandon the stimulating policy, which will continue to restrict the growth of the national currency.

Today, in addition to the results of the Fed meeting, traders are waiting for data on US oil reserves, which will be published at 17:30 Moscow time.

Analysts polled by S&P Global Platts suggest that the ministry will report a decrease in commercial crude oil reserves by 1.2 million barrels, as well as gasoline reserves by 2 million barrels.

At the same time, the effect of the decline in reserves can easily offset the growth of oil production in the United States. In this scenario, oil prices risk going down, which will negatively affect the dynamics of the Canadian dollar.
USDCAD BuyLimit 1.3350 TP 1.3480 SL 1.3310
Analytical reviews and comments to them reflect the subjective opinion of the authors and are not a recommendation for trading. Author Artem Deev is a trader analyst at AMarkets . The social network of traders is not responsible for possible losses in case of using the review materials