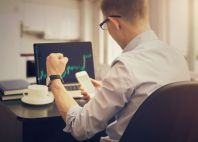 The American currency index (DXY) fell sharply during the trading session on Tuesday and, having lost 0.32% in a day, closed the day at 90.76.
In recent weeks, investors have been closely monitoring the yield on 10-year government bonds, changes in which immediately affect the dynamics of the dollar. On Tuesday, the yield on 10-year US government bonds fell to 1.413%, which sent the dollar into a justified correction.
Earlier, the US currency received support on expectations that a rise in government bond yields could push the US Federal Reserve System to tighten monetary policy earlier than expected. However, such fears were quickly dispelled. Last week, Fed Chairman Jerome Powell told members of the US Congress that the central bank will continue to maintain low interest rates and buy assets until it reaches employment and inflation targets. On Tuesday, Fed Governor Lael Brainard confirmed this position, noting that "the economy is still far from full recovery, and the recent acceleration of inflation looks more like a temporary phenomenon than the formation of a stable trend of exceeding the target inflation rate and raising inflation expectations."
The next major event for the dollar will be a speech by Fed Chairman Jerome Powell, scheduled for Thursday. The big question is whether Powell sees the rise in Treasury yields strong and fast enough to threaten economic recovery. And if he does, does he foresee an imminent need to counteract this with additional stimulation? In the event that Powell once again confirms the importance of maintaining a soft monetary policy, the dollar sales may continue. Until then, sellers can be supported by data on the state of the American labor market from the ADP, as well as the index of business activity in the ISM services sector, which will be released later in the evening.
DXY SellLimit 91.10 TP 90.00 SL 91.40
Analytical reviews and comments to them reflect the subjective opinion of the authors and are not a recommendation for trading. Author Artem Deev is a trader analyst at AMarkets. The social network of forex traders is not responsible for possible losses in case of using the review materials

The content of this article is the solely private opinion of the author and may not coincide with the official position of the Forex social network Special. The materials published on this page are provided for informational purposes only and should not be construed as investment advice or advice for the purposes of Directive 2004/39 / EC.