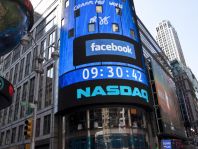 How to make money from home on FACEBOOK? Trading ideas for investors 30.03.2020 for investment in shares FACEBOOK Inc. (NASDAQ)
Technical Analysis of Stocks #FACEBOOK

The general trend of downward FACEBOOK shares. the resistance level 164.0 restrains buyers of shares FACEBOOK. The indicator Awesome Oscillator formed a bearish divergence, and the Stochastic Oscillator indicator shows overbought shares FACEBOOK Inc. Break of 154.50 will give the formation of the descending pattern is 1-2-3 within the overall downtrend FACEBOOK Inc.

How to earn? business idea to investors shares FACEBOOK:
Investors sell stocks FACEBOOK below 154.50.
Stop Loss - 164.00.
Target levels - 144.50; 137.30.
Analytics Grand Capital
Analytical reviews and comments reflect the personal opinion of the authors and are not a recommendation to trade. Special Forex shall not be liable for any damages in case of a vision materials.