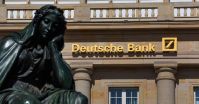 What promotions can you earn today? Investor Trading Idea - Deutsche Bank AG (XETRA) Stock
Analytics of Deutsche Bank AG shares based on modified wave analysis, support and resistance levels and price channels.
The general trend of Deutsche Bank AG shares is upward. Deutsche Bank AG share is trading in a range of 365 and 135 moving averages. The Awesome Oscillator shows a Bullish Divergence, while the Stochastic Oscillator signals oversold conditions.
Trading idea for Deutsche Bank AG shares:
Investors purchase of Deutsche Bank AG shares above 132.64.
Stop Loss - 129.30.
Target levels - 138.00; 144.00; 155.00.
Analytics Grand Capital
Analytical reviews and comments to them reflect the subjective opinion of the authors and are not a recommendation for trading. Forex Special is not responsible for possible losses in case of using the review materials.