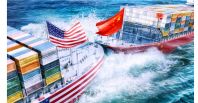 Reserve Bank of Australia left the rate at 0.25%

China threatens tough countermeasures on US actions

Donald Trump authorized the entry of troops into Washington

Based on the results of the meeting held today, the Reserve Bank of Australia decided to maintain the interest rate at 0.25%. At the final press conference, it was noted that the prospects for economic development remain extremely uncertain, therefore, the regulator will keep the rate at a low level for a sufficiently long time. Recent macroeconomic data indicate that the recession will be less severe than previously expected. If necessary, the regulator can expand the QE program.

The Chinese Foreign Ministry announced serious countermeasures to US attempts to intervene in the country's internal affairs. The Office urged colleagues from the United States to abandon the policy of threats and sanctions and sit at the negotiating table. According to the head of the Ministry of Foreign Affairs, the US withdrawal from WHO indicates the US desire to resolve the existing differences between the countries by force. On the eve of the media, it was reported that China had suspended imports of American soybeans and other agricultural products, as well as canceled some supplies of pork.

Donald Trump authorized the entry of troops into Washington. The day before, the president criticized the actions of the governors, saying that they showed weakness. The US President called on the authorities to respond more severely to the manifestations of violence that followed widespread peaceful protests. "These are not peaceful protests. These are acts of terrorism within the country," Trump said.
Analytics FORTFS