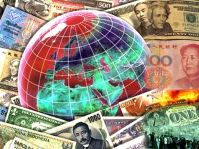 Economic activity in China continues to recover

Trump criticizes China

In April, China's manufacturing PMI fell from 52.0 to 50.8 points, after a sharp recovery a month earlier. Experts attribute the decline in the indicator primarily to weakening external demand. Nevertheless, any value of the indicator above 50 indicates an increase in economic activity in this sector of the economy and, in general, the data can be assessed as positive. Despite the growth of leading indicators, experts of the Japanese financial holding company Nomura expect that the real GDP of China in the 2nd quarter will decrease by 0.5%, compared with the data for the 1st quarter. Exports may collapse by 30%.
Representatives of the White House administration expressed confidence that China will be able to fulfill all its obligations under the interim trade agreement, despite the consequences of the coronavirus pandemic. At the same time, many experts are skeptical about China's chances of fulfilling a procurement plan for agricultural and other products from the United States. Recall that the trade agreement provides for an increase in imports of American goods by $ 200 billion compared with the level of 2017. In an interview with Reuters, Donald Trump noted that the pandemic had a strong negative impact on the prospects for concluding a comprehensive trade agreement with China. The White House is considering various options for responding to ineffective methods of controlling and containing the coronavirus pandemic.
News worth paying attention to today:
07:55 GMT. Germany: German market data
09:00 GMT. EU: April Consumer Price Index Preliminary
11:45 GMT. EU: ECB meeting outcomes
12:30 GMT. US: Weekly Initial Jobless Claims Report
12:30 GMT. EU: ECB press conference
FORTFS analytics and forecast
Similar articles:
News → DAILY NEWS - BANK OF JAPAN LEAVES MONETARY POLICY WITHOUT CHANGE