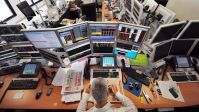 The EUR / USD pair is declining during the trading session on Tuesday. Since the beginning of the week, the European currency has weakened against the dollar by 0.22% and approached the psychological support of 1.20. The pressure on the euro is increasing as quarantine restrictions persist in many European countries, as well as against the backdrop of mixed macroeconomic data indicating that the recovery of the currency bloc economy will take longer than previously expected.
Thus, the GDP of the Eurozone in the 4th quarter of 2020 decreased by 0.7% q / q after growing by 12.5% ​​q / q in the third quarter. Analysts were counting on a decline of 1.2% qoq. In annual terms, the economic decline amounted to -5.1% y / y compared to the previous estimate of -4.3% y / y. The euro was also under pressure from the comments of the ECB Governing Council member Klaas Knot, who said that "the bank is closely monitoring the strengthening of the euro and may lower the rate on deposits, if necessary to achieve target inflation".
The dynamics of the American currency continues to have a significant impact on the euro, which still retains the potential for decline. Market participants believe that the recent recovery in the dollar may be short-lived. This can be explained by the fact that large-scale vaccination in the United States creates favorable conditions for the medium-term prospects of the world economy, and, therefore, for risky assets. The resumption of dollar sales also depends on the timing of the approval of a new stimulus package for the US economy in the amount of $ 1.9 trillion. Traders believe that the influx of additional liquidity will help the United States recover from the effects of the coronavirus and return to pre-crisis levels, provided that the epidemiological situation in the country and the world does not begin to deteriorate again. Today the focus of traders will be data on the US labor market from the ADP, as well as the index of activity in the service sector ISM. According to forecasts, the statistics are likely to disappoint again, which could provoke a local decline in the dollar. In addition, weak data will be another incentive for the US Congress to hurry up with the approval of the new government aid package for the US economy.

EUR / USD BuyLimit 1.20 TP 1.2250 SL 1.1950
Analytical reviews and comments to them reflect the subjective opinion of the authors and are not a recommendation for trading. Author Artem Deev is a trader analyst at AMarkets . The social network of forex traders is not responsible for possible losses in case of using the review materials

The content of this article is the solely private opinion of the author and may not coincide with the official position of the Forex social network Special . The materials published on this page are provided for informational purposes only and should not be construed as investment advice or advice for the purposes of Directive 2004/39 / EC