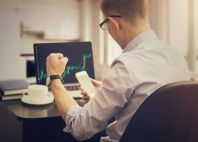 GBPUSD pair on Wednesday trading shows a downward trend. Since the opening of the day, the British currency against the dollar is losing about 0.2% and by 11:00 Moscow time is quoted at 1.2225. Given that the pound remains one of the main fundamental outsiders of the foreign exchange market, its current dynamics are more than justified.
On Tuesday, data on the British labor market were presented to traders. The average wage level including premiums in March fell to 2.4% against the forecast of 2.6%. The number of applications for unemployment benefits increased to 856.5 thousand against the background of projected growth to 676.5 thousand. At the same time, the unemployment rate unexpectedly dropped to 3.9%. Today's April CPI data was no less disappointing. As it became known, the annual inflation rate in April slowed down to 0.8% from 1.5%.
Experts surveyed by WSJ predicted inflation to fall to 0.9%. Core consumer price inflation, which does not take into account such volatile components as changes in food and energy prices, also decreased and amounted to 1.4% in April. Given that inflation in England last month slipped to its lowest level in the past 10 years, market participants fear that if this trend towards summer continues, the consumer price index may fall to zero.

Pound sales, which became the reaction of traders to the latest reports, are due to the fact that weak statistics may force the Bank of England in mid-June to announce an increase in the quantitative easing program by 100 billion pounds. In addition, traders allow a scenario in which the British regulator decides to lower the rate below zero.

Today, the pressure on the pound may also have a potential growth of the dollar. At 21:00 Moscow time, the minutes of the last meeting of the US Federal Reserve will be released. If investors receive another signal in favor of maintaining the expectant position of the US regulator, the dollar will strengthen, which will lead to a resumption of decline in risk currencies.
GBPUSD SellLimit 1.2250 TP 1.2050 SL 1.2290

Analytical reviews and comments on them reflect the subjective opinion of the authors and are not a recommendation for trading. Author Artem Deev trader analyst AMarkets Social network of traders is not responsible for possible losses in case of using review materials