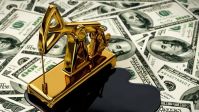 The bullish rally in risky assets continues. Brent crude oil during the trading session on Monday updated its price maximum for more than a year, recovering to $ 60.68 per barrel.
As in the previous week, prices were supported by hopes for a speedy recovery of the global economy amid campaigns to vaccinate the population, as well as expectations of new fiscal stimulus measures in the United States. United States Treasury Secretary Janet Yellen said Sunday that the $ 1.9 trillion bailout plan presented by Biden. could contribute to a full recovery in employment by next year. The Democratic Party last week organized a series of votes to unlock the budget settlement process. This will enable the party to approve Joe Biden's $ 1.9 trillion anti-crisis program. without Republican support in the Senate.
The Middle East news background is also on the side of oil buyers. On Sunday, Iran's Supreme Leader Ali Khamenei called on the US to lift sanctions against the Islamic state. However, Biden told CBS TV that Iran must first stop enriching uranium and adhere to the terms of the nuclear deal before the sanctions are lifted. Recall that former President Donald Trump pulled the United States out of a key nuclear deal in 2018 and reintroduced sanctions against Iran.

A weakening dollar is also a factor in the rise in oil prices. As a rule, the depreciation of the US currency makes commodity assets denominated in USD more attractive to holders of other currencies. Market participants are also looking forward to the release of data on changes in US oil reserves. An official report from the Energy Information Administration will be published tomorrow. If stocks fall again, the rise in oil prices may continue. However, we shouldn't forget about the high probability of a price correction, especially considering that Brent has added more than 15% over the past 10 days without any technical pullback.

Brent BuyLimit 60.50 TP 62.50 SL 59.80

Analytical reviews and comments to them reflect the subjective opinion of the authors and are not a recommendation for trading. Author Artem Deev is a trader analyst at AMarkets. The social network of forex traders is not responsible for possible losses in case of using the review materials

The content of this article is solely the private opinion of the author and may not coincide with the official position of the Forex social network Special. The materials published on this page are provided for informational purposes only and should not be construed as investment advice or advice for the purposes of Directive 2004/39 / EC.