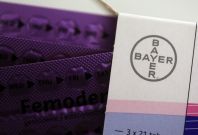 How can an investor make money on stocks? Stock Investment Trading Idea 08/03/2020 Investor in Bayer AG (XETRA)
Bayer AG (XETRA) #BAYN Stock Analysis and Forecast
The 56.00 support level is holding back sellers of Bayer AG (XETRA) shares. A Bullish divergence has formed on the Awesome Oscillator indicator, and the Stochastic Oscillator indicator signals that Bayer AG (XETRA) shares are oversold.
Where to watch the Bayer AG (XETRA) #BAYN stock price online
The idea of ​​investing in shares of Bayer AG (XETRA):

An investor should buy Bayer AG (XETRA) shares on the formation of an upward wave structure, where wave A breaks through the sloping channel of a downward structure.
Stop Loss below the local minimum - 56.00.
Target levels - 64.30; 73.50.
Analytics Grand Capital
Analytical reviews and comments to them reflect the subjective opinion of the authors and are not a recommendation for trading. Forex Special is not responsible for possible losses in case of using the review materials.
Similar articles:
Investments → Short Term FX Trading Idea GBP / JPY - Long Play: Rebound From Trend Line
FOREX FORECAST → Artem Deev's trading ideas for November 14, 2017
FOREX FORECAST → Trading ideas of traders 10/04/2017
News → Forex Medium Term Trading Idea: EUR / JPY is a bull run
Investments → Short-term trading idea FX USD / JPY - bullish play: possible rebound from the lower border of the "C-C" channel