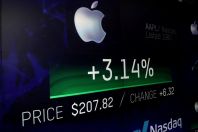 How to make money on APPLE promotions? Trading ideas for investors 10/26/2020 to invest in stocks APPLE Computer Inc. (NASDAQ)

The APPLE share is trading in the range of the descending price channel. The support level of 114.15 is holding back sellers of APPLE shares. A Bullish divergence has formed on the Awesome Oscillator indicator, and the Stochastic Oscillator indicator signals that APPLE shares are oversold.
APPLE stock trading idea:
Investors should buy APPLE shares on the formation of an upward 1-2-3 pattern, where wave 1 breaks the upper border of the descending price channel.
Stop Loss below the local minimum (114.15).
Target levels - 119.00; 125.00.
Analytics Grand Capital
Analytical reviews and comments to them reflect the subjective opinion of the authors and are not a recommendation for trading. Forex Special is not responsible for possible losses in case of using the review materials.
Similar articles:
Investments → We invest in shares: Trading ideas for investors 23.11.2018 shares of PJSC Lukoil
Investments → Shares, Investments - For Investors trading ideas for today 03.12.2018: shares of PJSC Magnit
FOREX FORECAST → Investing in shares of Sberbank - For Investors analysis of Sberbank shares and trading ideas for 06.12.2018
Investments → Investing in stocks: Trading ideas for investors 28.11.2018 shares of PJSC Lukoil
Investments → Investing in shares of The Kraft Heinz Company - trading ideas for investors for today 12/04/2018