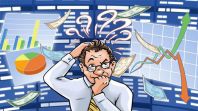 Forex forecast EURUSD for today 06/22/2020

The mixed dynamics of the interbank lending market in New York and London does not allow the euro to reach its full potential. In New York last Friday, a repo auction was not held, because commercial banks did not submit applications for refinancing to the Federal Reserve. If in the first half of the month bankers willingly took loans from the Fed, now there are no applications. This factor indicates the absence of problems with dollar liquidity, which is positive for the euro. In London, there has been an increase in overnight rates on dollar loans, which indicates liquidity problems, and this factor does not allow the European currency to demonstrate a good trend. What to do in this situation? In my opinion, the problems on the European interbank market are short-term, since the Fed controls the situation and will not allow imbalance in the market. On this background,

EURUSD recommendation: Buy 1.1188 / 1.1170 and take profit 1.1260.