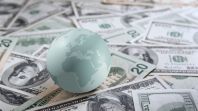 Events today:
15.30 Moscow time USA: March change in volume of orders for durable goods.

EURUSD Forex pair forecast today 04/24/2020

The positive situation in the interbank lending market indicates the development of an uptrend in the EURUSD pair. In London, there is a trend towards lower interest rates on loans in dollars and an increase in interest rates on loans in euros. In New York, for the last three days at the REPO auctions, the Federal Reserve received applications from commercial banks in the amount of $ 0.8 billion, which is the minimum level for the last 4 weeks. This trend indicates the absence of problems with dollar liquidity in the banking system, which will contribute to lower quotes of the American currency. The rally in gold will provide additional support for the euro, as the European currency and precious metal correlate with each other.

EURUSD recommendation: Buy 1.0755 / 1.0730 and take profit 1.0820